Middletown Custom Home Builders.
We have the experience, technology, and integrity to bring your vision to life.
Frequently Asked Questions for Custom Home Builders in Winchester, VA
How much does it typically cost to build a new custom home in Middletown, VA?
Middletown custom homes are by definition custom, so their price can vary wildly. That said, as a general rule of thumb expect to pay at least $100 per square foot. The final price will depend on a host of factors, but the overall price tag could be anywhere from $125,000 to $400,000, depending on what kind of custom home you're looking for! See our blog post on "
How Much Does a Custom Home Cost?
"
How does Middletown's weather factor into the process of building a custom home?
In Middletown, VA, you can expect freezing temperatures and the possibility of snow or ice all the way from late November through March (and even very occasionally into April.) As a result, most exterior construction in Middletown, VA will take place starting in April going through early November. Construction during the winter months is also possible! However, with the potential for weather delays, exterior construction during winter is likely to move at a slower pace.
I already have a site to build on in Middletown, VA. Can you use that lot?
We can certainly build on your lot in Middletown! This will conveniently cut down on the time needed to find a new lot. We will want to design the home so that it takes best advantage of the particular features and views offered by your lot. We will visit your lot with you to walk it and discuss our ideas for your home's construction.
Do I have to get permits or other paperwork from the town of Middletown to build my custom home?
Middletown
 requires specific permits so that your custom home will comply with local standards for zoning, land use and construction. As your custom home builders,
it is our job to acquire these permits
as part of our scope of work.
Will I get a custom home builder's warranty?
Absolutely. In addition to manufacturer's product and materials warranties, Petrine Construction offers a one-year warranty on our labor that is issued to you at our final walk-through. If you encounter an issue with our work within the warranty period, Petrine will be glad to help you resolve it.
How can I keep track of progress if I am unable to visit Middletown frequently?
Just because you're getting a custom home in Middletown, VA doesn't mean you're always in Middletown! Fortunately, for your convenience, we employ an online scheduling program called
Buildertrend
. This construction management software schedules and tracks all the tasks of your job along the way, and allows our clients to log in to see what is being done each day. It also offers a robust communication portal we use to message with you on a regular basis. You can also visit your job site at any time for a walk-through with us. We have a project manager on site at each project.
Our Starter Homes offer quality design on a budget.
With our pre-planned homes, you'll get a gorgeous new home, without the extra time and cost of a custom project.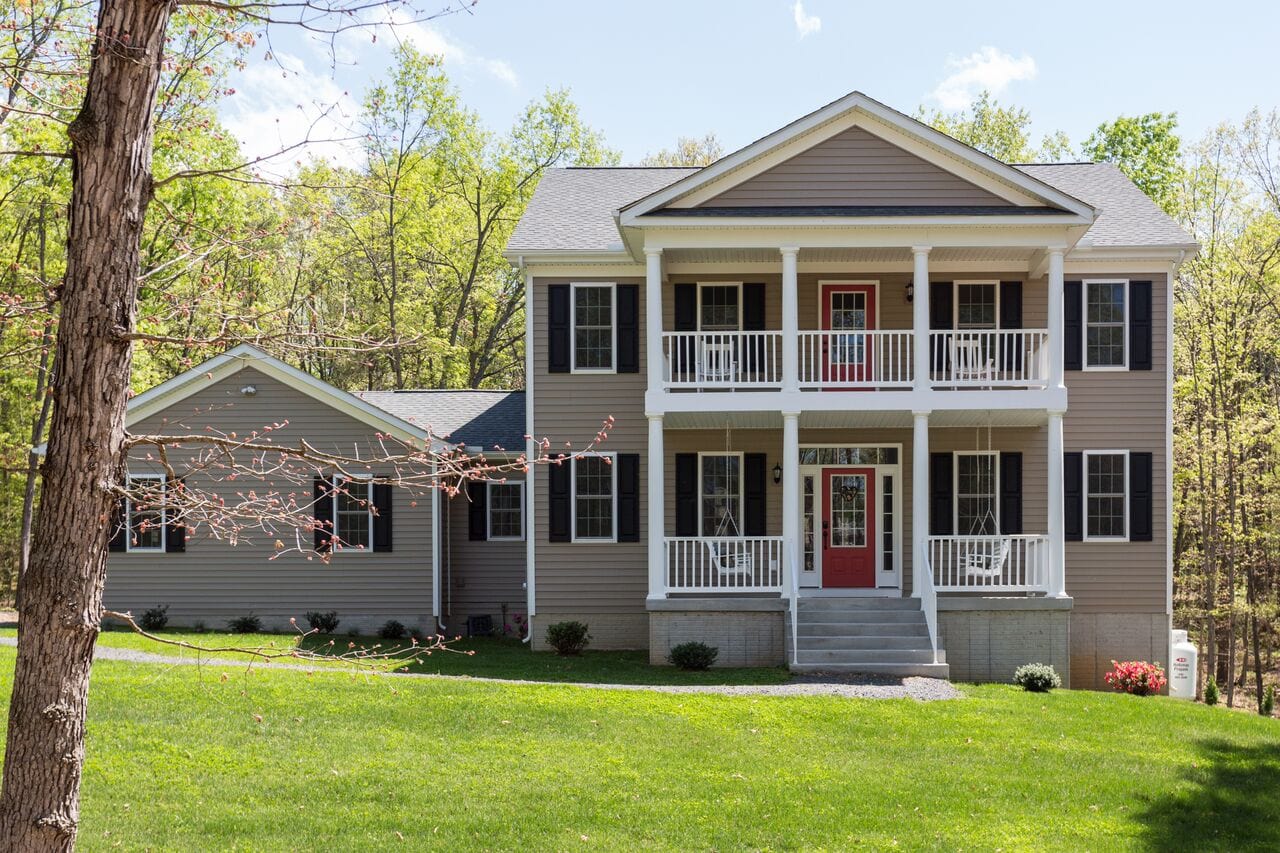 The homes in our Family Collection focus on the needs of your family.
We'll help you design a home that is customized to your tastes and needs, while remaining within your means.
Looking for a private country retreat or vacation house? Or a home to retire to?
With the Shenandoah Valley as inspiration, our Rolling River homes offer quality designs that fit your needs.
With high levels of customization, our Estate Collection is full of our largest and most handsome homes.
These spacious, regal, bold homes remain respectful of the landscape.
Retirement homes are typically designed for living on one floor. Hallways and doorways are commonly made wider than normal, as well.
A small guest bedroom is, also, typical.
Proud local custom home builder with dozens of completed projects in Virginia.
We always strive to construct a good building, but we are also passionate about creating the right building.