Front Royal Custom Home Builders.
We have the experience, technology, and integrity to bring your vision to life.
Custom Home Builders in Front Royal
You deserve the home you've always dreamed of, and what better way to get it than to design a custom home.
At Petrine Construction, we're passionate about designing efficient, livable spaces that encapsulate your lifestyle and design preferences.
Since we want to create a home that reflects you, you are part of the collaborative approach we use to building a custom home. Using online and app-based software, we keep you tied into the building process throughout the project.
Since we've been a custom home builder since 1985, many of the homes we built are right here in the Front Royal area. We have tons we can show you as examples of our fine custom home workmanship.
Contact us to discuss your ideas for a custom home in Front Royal.
Front Royal Custom Home Floor Plans
Petrine Construction offers a full range of possibilities when it comes to custom home floor plans. Bring us your ideas and let us design and build the ideal home for you.
If you don't have the time or inclination to design a home, we offer collections of custom floor plans that you can easily customize to your preferences.
Frequently Asked Questions for Custom Home Builders in Front Royal, VA
How much does it typically cost to build a new custom home in Front Royal, VA?
The average cost for building a single-family custom home in the Front Royal area is around $175 per square foot. But prices can range from the low $200Ks to more than $700K and higher, depending on many factors. Expect to pay between about $200 and $400 per square foot for a custom or luxury home. See our blog post on "How Much Does a Custom Home Cost?"
How does Front Royal's weather factor into the process of building a custom home?
Front Royal gets an average of 24 inches of snow between December and March. While there can be a variety of weather patterns, snow, ice, and heavy rain often delay construction. Consequently, we prefer to concentrate exterior construction from the latter half of March through November. We can and do work during the winter, but we take extra precautions to prioritize the safety of our employees and contractors.
How do I find a lot in Front Royal to build my new custom home on?
Petrine Construction has invested in a number of great lots in and around Front Royal that are available for your choice. We also have relationships with the top Realtors and Brokers in our area who can also help you find the ideal lot. You're welcome to view our available lots.
How long will it take to build my custom home from design to completion?
Completion of a custom home depends upon a number of factors. We begin with a consultation to talk about your needs and lifestyle, and from there enter the design phase. Once we present a design, you review it and make changes. This can go back and forth several times before a final agreement is reached. From there, we go into the construction phase. Completion of construction can be dependent on the size and intricacy of the home design, and upon weather conditions, depending upon the time of year. Over our 35+ years as custom home builders, we see projects take between 10 and 16 months, from design to completion.
How can I keep track of progress if I am unable to visit the construction site?
Just because you're getting a custom home in Front Royal doesn't mean you're always in Front Royal! Fortunately, for your convenience, we employ an online scheduling program called Buildertrend. This construction management software schedules and tracks all the tasks of your job along the way, and allows our clients to log in to see what is being done each day. It also offers a robust communication portal we use to message with you on a regular basis. You can also visit your job site at any time for a walk-through with us. We have a project manager on site at each project.
Do I have to get permits or other paperwork from the town of Front Royal to build my custom home?
Our Starter Homes offer quality design on a budget.
With our pre-planned homes, you'll get a gorgeous new home, without the extra time and cost of a custom project.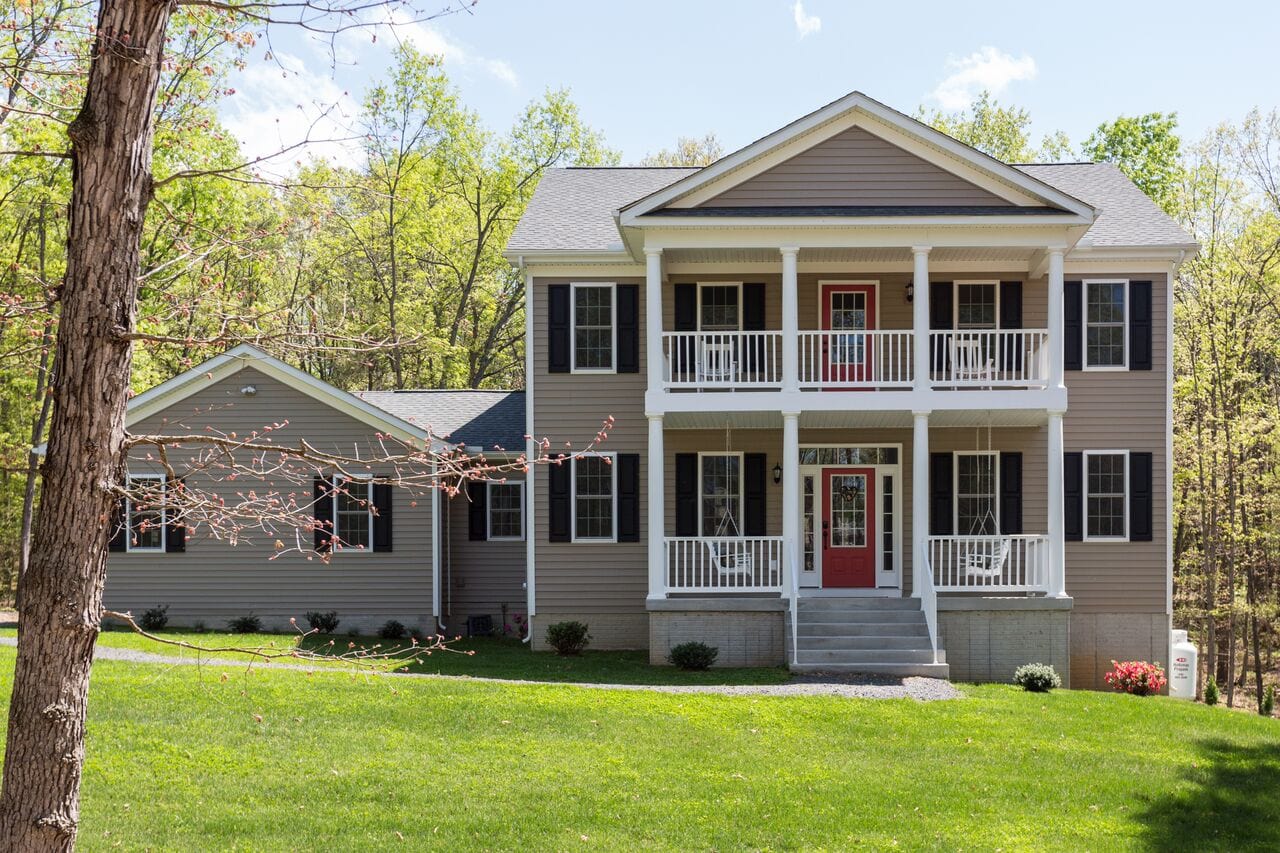 The homes in our Family Collection focus on the needs of your family.
We'll help you design a home that is customized to your tastes and needs, while remaining within your means.
Looking for a private country retreat or vacation house? Or a home to retire to?
With the Shenandoah Valley as inspiration, our Rolling River homes offer quality designs that fit your needs.
With high levels of customization, our Estate Collection is full of our largest and most handsome homes.
These spacious, regal, bold homes remain respectful of the landscape.
The Dream Collection
We think it's important for you to dream big.
Get the creative juices flowing and design the home of your dreams with our Dream Collection. The possibilities are endless!
Your home should be unique, influenced by the environment and by you.
Don't have the time or desire to design a home? Browse and customize our collections of custom floor plans.
Proud local custom home builder with dozens of completed projects in the Northern Shenandoah Valley.
We always strive to construct a good building, but we are also passionate about creating the right building.