Custom Home Builders in Virginia's Northern Shenandoah Valley.
We have the experience, technology, and integrity to bring your vision to life.
Our Custom Home Builders' Services
Local Custom Home Builders in Virginia
Petrine Construction is a team of custom home builders that work for you.
We're not only passionate about creating efficient and beautiful living spaces, but designing custom homes that our clients love.
Using the latest building technology and our knowledge of the local market and landscape, you can trust us to guide you through the home building process.
Our Starter Homes offer quality design on a budget.
With our pre-planned homes, you'll get a gorgeous new home, without the extra time and cost of a custom project.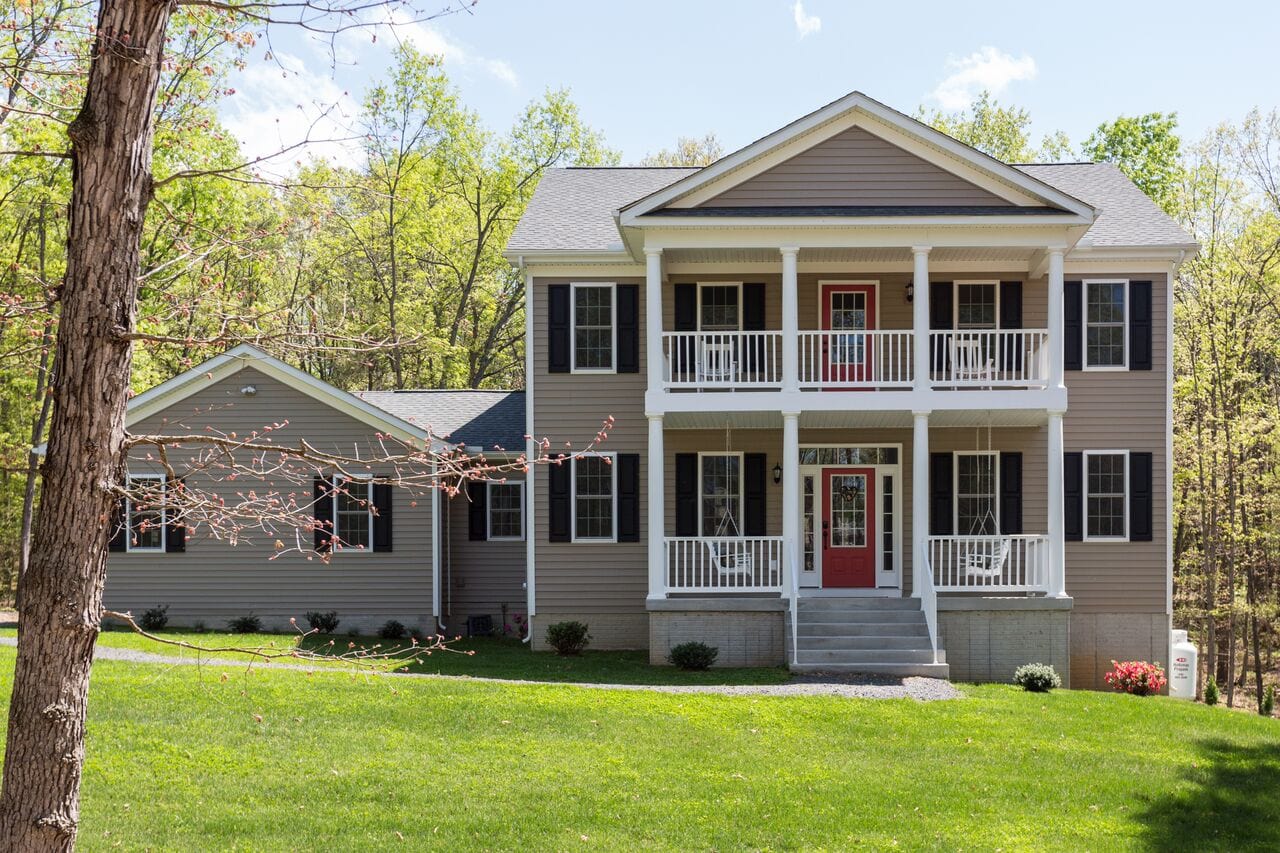 The homes in our Family Collection focus on the needs of your family.
We'll help you design a home that is customized to your tastes and needs, while remaining within your means.
Looking for a private country retreat or vacation house? Or a home to retire to?
With the Shenandoah Valley as inspiration, our Rolling River homes offer quality designs that fit your needs.
With high levels of customization, our Estate Collection is full of our largest and most handsome homes.
These spacious, regal, bold homes remain respectful of the landscape.
Retirement homes are typically designed for living on one floor. Hallways and doorways are commonly made wider than normal, as well.
A small guest bedroom is, also, typical.
Proud local custom home builder with dozens of completed projects in Virginia.
Quality
We think that custom home construction and design should be a collaborative process. That's why we work with you to create a quality living space.
Our efficient, yet playful, homes and buildings relate well to the landscape and are designed to serve your needs.
Integrity
Unlike too many local home builders, Petrine Construction is built on honesty, trust, and a commitment to creating value for our customers.
We provide clarity as well as value for our homeowners as they navigate the complexity of the building process.
Experience
For 35 years, Petrine Construction has been building premier custom homes in the Shenandoah Valley.
We know the best custom home construction processes, and stay up to date with the latest building trends and breakthroughs.
Step 1:
Schedule a consultation. We'll answer any questions you may have about our process.
Step 2:
Set up a site visit to determine the house size, style and design considerations that will take advantage of the best features of your lot.
Choose your home plan or begin designing a new plan with our experts.
Consider and choose specifications and options to consider in your home. Our team will guide you through this process with input on materials, pricing and durability considerations.
Our experts will create an estimate for you based upon your chosen design, options, and specifications.
Step 3:
We'll create and review your contract with you. Confirm your building details and apply for financing and permits.
Step 4:
Building and completion. After final inspections and walk-throughs, settle in and make yourself at home!
Frequently Asked Questions for Virginia Custom Home Builders
How much does it typically cost to build a new custom home in Virginia?
In Virginia, the typical cost to build a new home is around $100 per square foot. This, of course, depends upon where you live in Virginia. For example, in Northern Virginia, you can expect to spend up to approximately $199 per square foot.  Overall, average prices to build a new home range between $75 and $400 per square foot. See our blog post on "
How Much Does a Custom Home Cost?
"
How does the Virginia weather affect the custom home building process?
Because of the more pleasant weather conditions, much exterior construction in Virginia takes place during the spring, summer and fall. Construction can also be done in the winter, with the exception of heavy rain, snow and ice days. We consider the safety of our employees and contractors, and your home first.  During the winter months, Petrine Construction often works on interior projects when work cannot take place outdoors.
How long does it take to design my custom home?
The custom home design process is a fluid one so it does not have a standard time frame. We begin by meeting with you to discuss your needs, lifestyle and desires, and to view images of homes you like. Then, we gather information we need to create sample designs. Once you choose a design, we tweak that design until it is just right before going into the construction phase. The design time depends on the size and complexity of the project.
How much does it cost to design my custom home?
Most architects and design firms charge by the hour to create a home design, with an estimate of approximately 10% – 17% of the home's cost in the design. Petrine Construction offers you the option of design cost savings through our home design collections. Choose from one of our existing designs and make modifications to make it your own.
How do I find a lot to build my new custom home on?
Petrine Construction has invested in a number of great lots in and around Front Royal that are available for your choice. We also have relationships with the top Realtors and Brokers in our area who can also help you find the ideal lot. You're welcome to view
our available lots
.
How do I finance the construction of my new custom home?
Normally, people obtain a construction loan, also known as a construction mortgage, instead of a traditional mortgage to finance the construction of their new home. With this type of loan, only interest is paid during the construction period and money is paid by the lending organization incrementally to the builder during the construction process.
Can you help me find a lot or tear down a house?
Petrine Construction has
dozens of lots
in Front Royal, VA and the surrounding area in which we've invested. We can also hook you up with one of the top Realtors and Brokers in the area to help you find additional lots. If there is an existing home on the property, as a custom builder, we can tear down the house and help you design and build the home of your dreams.
How much supervision will my custom home have during the building process?
Petrine Construction assigns a project manager to each job, and it is their responsibility to be on site to supervise the construction process.  There will always be a site supervisor on the site during any work times. We want to get things right the first time, so we supervise our work throughout the process. The homeowner is not required to be on site, but is welcome to come to the job site to see our work.
I already have a site to build on. Can you use that lot?
We can certainly build on your lot—it conveniently cuts out the time needed to find a lot to build on. We will want to design the home so that it takes best advantage of the particular features and views offered by your lot. We will visit your lot with you to walk it and discuss our ideas for your home's construction.
How do I get started building a custom home?
The word "custom" implies that you will want to put your own personality into the home, rather than accept a cookie-cutter plan. To get started, custom home builders will arrange a consultation with you where we will ask lots of questions about what you need and like, your lifestyle and family, and your must-have features. We'll discuss your budget and then make recommendations and offer options for the design of your custom home. From there, we enter the design phase.
What is your per-square-foot price to build?
For us as for most custom home builders, there is no standard price per square foot. The cost entirely depends on the features you want. While it is possible to divide the total price by the square footage of the home, the resulting number will not provide useful information. We work within your budget to design and build a custom home that's right for you.
Do you have a model, or model homes?
From time to time, Petrine Construction will build what we call a "spec home" that will be used as a model and offered up for sale. This helps us to demonstrate some of the homes in our collections and allows potential clients to walk through actual models. We do not maintain a year-round model. We can direct you to custom homes in our area we have built using our signature floor plans so you can see an actual home of the plan you select. We have
a number of collections
, ranging from starter homes to estates.
Is Petrine licensed and insured?
Petrine Construction holds a Class A contractor's license, which is governed by the Virginia Department of Professional and Occupational Regulation's
Board for Contractors
. This is required when the total value of a contract is $120,000 or more, or $750,000 or more over a 12-month period. To even qualify for this license, we must have been in business for 5 years. (We've been in business 35 years!) Petrine maintains others licenses as required by the type of job.
As a professional construction company, Petrine has carries general contractor liability insurance. This covers any property damage or bodily injury the company accidently may cause to you, your family, or and property. We are glad to show you copies of our license and insurance certificates.
Do we get to select building materials, appliances, styles and finishes?
Items in the actual construction of your home are generally defined during the design process. We will recommend products, and work with vetted manufacturers whom we trust, to provide you with quality materials and great pricing. If you wish to make changes, you can! However, your changes may affect the pricing.
Where you really get to make choices is during the selections process. Our experienced designers will walk you through all of the decisions you need to make as to your appliances, counter tops, cabinets, finishes, colors, lighting and other materials. You will have a spending allowance defined in your contract through which you can make your selections at no additional cost. If you wish to go outside that cost, you can, but you will need to make up the difference in price yourself.
Are my home styles limited by Petrine?
As custom home builders, we can build pretty much anything. Just look at our ideas in
our Dream Collection!
We have more than 35 years of experience in building custom homes, and have worked with almost every style of home imaginable. Bring us your ideas and let us turn them into the home of your dreams.
How do we find the best floor plan for our new home?
It's not a matter of finding the best floor plan, it's a matter of creating the best floor plan. We begin by learning about you and your family's wants, needs and lifestyle. Taking your answers into consideration, we can then talk about what options we believe will work best for you. Once you narrow down the choices, we will help you work up a custom floor plan made specifically for you and your family.
Feel free to look through the floor plans we offer in our various collections for inspiration, check out our social media links like our Instagram page, or bring us a floor plan you already like. We can modify any plan to suit your needs.
Do you have any lot + home combinations?
From time to time, we do build a "spec home" on one of the lots we own. We are custom home builders, however, so normally we have you pick out the lot you want and we build a custom home designed just for you. Feel free to inquire whether we have any lot + home combinations available at this time.
Do you have floor plans to choose from?
What is in-house design?
The building of any home starts with a design that is created by an architect or architectural designer. We are proud to have an experienced in-house design team who can help you create a custom floor plan. You won't need to obtain the services of an outside architectural firm for this step. We conveniently offer one-stop service all the way from concept through design through the actual building of your new home.
What are allowances in custom home building?
When we price out a custom home building project, we have a good idea of what things will cost. An allowance is what we budget for an item of work, like your appliance package, lighting or carpeting, for example. When you are making your selections, the allowance is used as a guideline to keep costs in check. You can, of course, choose items above your allowance by covering the extra cost difference yourself.
Will I get a custom home builder's warranty?
Absolutely. In addition to manufacturer's product and materials warranties, Petrine Construction offers a one-year warranty on our labor that is issued to you at our final walk-through. If you encounter an issue with our work within the warranty period, Petrine will be glad to help you resolve it.
How long will it take to build my custom home from design to completion?
Completion of a custom home depends upon a number of factors. We begin with a consultation to talk about your needs and lifestyle, and from there enter the design phase. Once we present a design, you review it and make changes. This can go back and forth several times before a final agreement is reached. From there, we go into the construction phase. Completion of construction can be dependent on the size and intricacy of the home design, and upon weather conditions, depending upon the time of year. Over our 35+ years as custom home builders, we see projects take between 10 and 16 months, from design to completion.
How can I make sure my home is built quickly?
We never want to rush through the process, as quality is most important to us, but there are ways to speed up the design/build process. One way is to use a production floor plan that eliminates the time it takes to draw up and approve a custom plan. Another way is to plan for selections and other time-consuming processes in advance. This way things are in place when needed and construction can continue without delay. We also use construction management software called
Buildertrend
that schedules and tracks tasks on a daily basis. If you need a custom home built quickly, let us know. We'll make every effort to accommodate your needs and schedule.
How can I keep track of progress if I am unable to visit the construction site?
For the convenience of our clients and coordination amongst our team, we employ an online scheduling program called
Buildertrend
. This construction management software schedules and tracks all the tasks of your job along the way, and allows our clients to log in to see what is being done each day. It also offers a robust communication portal we use to message with you on a regular basis. You can also visit your job site at any time for a walk-through with us. We have a project manager on site at each project.
Does Petrine help with plans for my home?
Yes! Some custom home builders outsource the design, but Petrine Construction has an experienced in-house architectural design team that can create a custom plan for you, tweak
one of our existing plans
to customize it for you, or work with an outside architectural drawing to prepare it for construction with our company. We can help at any level you need or want.
What do I get to choose for my home?
Once the architectural design is set and approved, that's when you begin making your selections. Our design team will help walk you through the process of choosing things like your appliance package, cabinets, countertops, lighting, carpeting, tile, paint colors, fixtures and finishes. We work with many manufacturers and suppliers who offer a wide range of choices. Your contract should have allowances for each of these items, however, you are free to choose items outside your allowance, as long as you cover the price difference.
Do I have to get permits or other paperwork to build my custom home?
Each jurisdiction requires specific permits so that your construction will comply with local standards for zoning, land use and construction. They can include permits for electrical, plumbing, mechanical, building, and perhaps grading. As your custom home builders, it is our job to acquire these permits as part of our scope of work.
What is the difference between cost plus and fixed price contracts for custom home builds?
Through a cost plus contract, you agree to reimburse your contractor for all expenses plus a specific amount of profit. This can be a percentage of the full price of the contract.
A fixed price contract does not depend on the resources used or the time spent. It most often offers a firm price or has a ceiling price/target cost on an adjustable rate. A fixed price contract puts the risk and responsibility on the contractor for all costs, which can influence the resulting profit or loss.
Will Petrine go over budget on our custom home?
We make every effort to provide you with an accurate quote on what we believe your custom home will cost, keeping that number within your budget allowance. There are times, however, when we may need something additional or come across a problem. There are also times when you want to make changes. If either of these situations occurs, we create what we call a Change Order and present that to you, with costs, for your approval. It must be signed by all parties to be valid and represents an official change to the contract. This way you are kept apprised of any cost changes. We don't want surprise charges any more than you do.
How often do we need to visit the building site?
There is no requirement as to how often you should or need to visit the building site. Visit as often as you'd like. We do, however, like to have checkpoints along the construction process where we gather all of the principals together to talk about the progress of your home. We will notify you of these through
your Buildertrend account
. We may also call you in if we have a suggestion or find an issue that needs a decision from you.
What types of foundations do you offer?
There are several common types of foundations custom home builders offer, with the poured concrete foundation being one of the most popular. With this type, we place footings below
the frost line
, leaving a crawlspace between the floor frame and the ground.
Petrine can also build a full basement upon which the house is built. We excavate the dirt, then place footings below the frost line, and pour a concrete slab to create a floor. This also creates an extra level within your home for a family rec room, gym, workshop or storage, and can increase the value of your home.
Should we choose a custom builder before or after we find a lot?
We recommend that you talk to custom home builders before you find a lot. If you already have a home style in mind, you will want the shape, size and orientation of that lot to suit the home. Petrine has invested in local real estate and has
a number of wonderful lots
throughout our region. See what we have available.
If you already have a lot, let's talk about how we can use your lot to its best advantage when designing and building your custom home, capitalizing on the sun's orientation, views, slopes and other factors.
Do you offer interior design assistance for our custom home?
Although we have excellent designers on staff, they are mainly in place to help our clients make selections. For complete interior design, we can refer you to some of the wonderful interior designers we've worked with over the years.